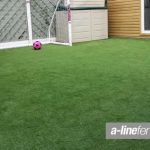 Turfing in Whiston can make a substantial different in the look and value of your property. You can choose from artificial grass or freshly lifted garden turf. Both of which look stunning and will provide a fresh new look to your garden. Artificial grass can be used to change the appearance of a small area on your property. It can however, also be used in a larger space. On the other hand, natural lawn is a beautiful addition to any garden, large or small. If you are interested in either of our turfing options, you are more than welcome to give us a ring.
One of the many benefits of artificial grass is that it is low maintenance and is durable. In Whiston, turfing is one of our many services. The artificial grass that we supply is available in rolls. Our expert team will lay and finish your new artificial grass to the highest standards of workmanship. You can be sure that your new lawn will look every day of the year. With artificial grass, you won't ever need to water your lawn. This saves you both time and money, without compromising the good looks of your garden. You will also have no need for regular maintenance like the regular mowing of the lawn and searching for and eliminating weeds. It is an excellent option for the busy homeowner who wants a perfect lawn. Natural turf is also an excellent option. A beautiful, natural lawn provides an excellent surface for children to play on. It is also an environmentally option. As a growing organism, grass releases oxygen into the air and absorbs carbon dioxide.
Top quality turfing in Whiston is available 7 days a week. For more details on how we can assist you with perfect turfing for your property, contact A Line Fencing today. Since 1998, we have provided our top quality services and products to all our clients. While we specialise in excellent quality timber fencing solutions, we also offer turfing that will both meet and exceed your expectations.