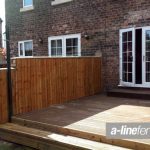 Wooden garden fencing in Litherland is a great investment when you choose a professional fencing company such as A Line Fencing. Fencing is so much more than security; it adds value to a property, enhances the appearance and provides privacy for homes and business premises alike. Wooden fencing is timeless. It creates a beautiful perimeter boundary and adds to the aesthetics of your property. Timber fencing for your garden is easy to install, easy to maintain and repair, and looks stunning, year after year.
If you want to add appeal to your property in Litherland, wooden garden fencing is the way to go. Quality fencing can protect small children and animals from running into the road or wandering too far and getting lost, providing them a safe enclosed environment to play and explore in. Quality fencing can also add appeal and aesthetic value to your property, both in that it can look stunning and tie a building together and also that it adds an air of security and esteem to a property. A sturdy garden fence adds value to selling and rental prices. We design, manufacture and install beautiful natural timber fencing for both residential and commercial properties. All our wooden garden fencing is treated with Tanalith A which makes it strong and resistant to the effects of the weather. We offer numerous styles and types of wood to choose from, and this allows you to match your fencing with your building style.
When you choose wooden garden fencing in Litherland, you are choosing both style and quality. On top of that, we are happy to install your new wooden garden fencing. We can make your fencing to any height you need, offering more privacy with taller heights and overlapping panels or leaving room for a view with a smaller picket-style fence. For more details about our wooden garden fencing, contact A Line Fencing. We also provide garden gates to fit your fencing perfectly, in matching or complimentary styles. You'll find that our prices are affordable, our services are excellent and our fencing products are of the highest quality.