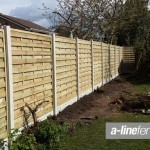 Our excellent replacement fencing in West Derby can boost your property values. If your fence has suffered damage due to the weather or wear and tear, you can also replace a few of the panels instead of getting a completely new one. A-Line Fencing offers a comprehensive range of fencing solutions. They include garden, palisade, school, security, concrete and mesh fencing. We also have a great range in timber gates and industrial fencing. All maintenance and repairs are provided by our trained contractors, no matter how big or small the requirement. We also help to locate and identify any issues that could potentially damage your fence. These may include deep roots of neighbouring trees that could damage the stability of the fence.
For your property in West Derby, replacement fencing has to be matched to the original structure. Wooden panels may rot or warp, crack or split and if left unattended for a long time, they can bring down the entire structure. That is why it's important to attend immediately to small problems that you notice. Though it seems to be a simple task on the face of it, repair and replacement of fencing is certainly not a job for the average DIY enthusiast. It's important to get the job done by an experienced professional. This ensures safety and security as well as protection of people, animals and vehicles who could suffer injuries from displaced fencing. It's also important to protect and mark your boundary. Planning permission may be required for fencing that is above a certain height and this includes trellis arrangements for creeper plants.
Our contractors have the right equipment and expertise to carry out the perfect job of replacement fencing in West Derby. This work needs a lot of concentration and care. The old panels may have to be replaced or you may have to dismantle and remove the entire fence very carefully. The fence posts may also need replacement if they're worn out or damaged. Contact A-Line Fencing for more information on our replacement fencing. You can also fill in the online form on our website and we'll get in touch within 2 business days.