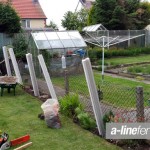 Quality fencing needs top quality fencing posts in Warbreck to ensure a sturdy perimeter. It is said that a fence is only as strong as its posts. The fence posts make sure that your fence stays upright, straight and strong. If you choose inferior quality fence posts, they will only last for a certain amount of time. If they are untreated, for example, it will only be a matter of weeks before they are likely to succumb to rot. This then means that your painstaking erected fence will either begin to sag, or collapse. It is best to choose top quality fence posts from a reputable and experienced supplier.
This is where we are available to assist. In Warbreck, fencing posts that we offer are available as timber or concrete. Whatever your requirements, we can manufacture and install the fencing posts you need. Whether you are planning on installing a wire, wooden or concrete fence, the quality of the fencing posts remains important. The fencing posts can be considered as the backbone of your garden fencing. The fence itself is supported by the fencing posts and if they are an inferior quality, your fencing will not last. It is also a good idea to choose wooden fencing posts rather than metal. One of the reasons for this is that the wooden fence pole will last longer. Additionally, a wooden fencing post won't bend, whereas a metal one will. Once it is bent, it will stay bent until you replace it.
If you are looking for top quality fencing posts in Warbreck, We Would be pleased to assist. Speak to our knowledgeable and experienced team for clear and solid advice on the best fencing posts for your property and type of fence. For more details, please contact A Line Fencing. Other than top quality fencing posts, we also offer a huge range of fencing options for your property. These include timber fencing, palisade and mesh fencing, along with concrete and security fencing. Additionally, we also offer a range of sturdy, good looking wooden garden gates. These can be made according to your specific requirements.