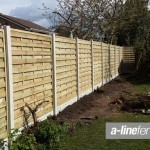 Sturdy garden fencing in Tarbock Green protects your property from intruders. It also helps to mark boundaries or designated areas within the garden. Our premium quality fencing can do all this while looking great at the same time. A-Line Fencing, the leading fencing and paving specialists in the region, offer a wide selection of excellent products and services. Our team of highly trained and knowledgeable professionals can help you select the right one. Every garden, like every client, is unique. That is why we don't believe in the one-size-fits-all type of service. We know that your requirements may be quite different from your neighbour's. Your taste and preferences may vary according to the architectural style of your home. We can customise our products to match your budget too.
For those in Tarbock Green, garden fencing can add just the right touch of charm and character to your property. The fence can be the main feature in your garden, or it could serve as a lovely backdrop to your flowers and plants. The perfect fence helps to keep prying eyes away, and is also a deterrent to pests and vermin. Before you purchase and install the fence, it's important to analyze exactly what purpose it will serve. You may also need to comply with local regulations regarding height and safety. There are dozens of styles to choose from, and each one has its own merits and demerits. If privacy and noise reduction are a priority, you can choose a solid fence with minimal space between the panels. Trellis patterns and slatted panels are decorative and help to mark boundaries.
Garden fencing in Tarbock Green and elsewhere is a long-term investment that must be chosen carefully. Contact A-Line Fencing for more information on our products and services. The placement of the fence and height of the panels can make a difference too. If you'd like to show off your front garden, choose shorter panels, but if you need to ensure that your pets and kids stay safe inside, choose higher ones. Take the weather in your area into consideration. Windy, wet regions require tough and durable materials and top-quality installation.