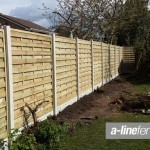 Top-quality fencing panels in Liverpool are available when you pay us a visit. We offer a comprehensive range of excellent quality timber fencing panels that will meet your specific requirements. Our services are appreciated by both our residential and commercial clients. We have been in business for more than three decades. As such, over this time, we have established a reputation for excellent quality and services. If you are interested in installing a new perimeter fence around your property, our fencing panels are the ideal choice. We specialise in timber fencing panels, however, we also offer a range of other fencing in different materials, including concrete and steel. For excellent advice on the best fencing panels for your particular requirements, speak to our experts.
For property owners in Liverpool, fencing panels can demarcate the boundaries of your property. This type of fencing option is both stylish and hard wearing. Moreover, it gives your property an elegant look. However, it is not all about looks. Timber is a traditional, sustainable and affordable option. We offer a number of different designs and you can select the one that best suits your requirements. You can also finish your timber fencing panels in a variety of options such as paint, varnish, stains. For a more natural look, you can leave it in its natural, unfinished state. Lap panel fences are among the most popular design. Timber fencing is very easy to install. For those who do not wish to install their own fencing, we are available to provide our services.
Our fencing panels in Liverpool are treated and protected before installation. This is to prevent deterioration, damage and infestation by pests. Our fencing panels are designed to last. Moreover, they'll add value to your property. For more details about our available fencing panels, contact A Line Fencing today. Our fencing panels are available in standard sizes, however, should you need a specific size, we can cut to size. Timber is one of the most affordable materials for a perfect perimeter fence. Additionally, all our timber comes from responsible forestry sources.