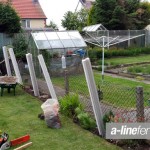 Enhance security and improve access control with our top quality industrial fencing in Woolton. Our firm, A Line Fencing specialises in fencing, paving and decking solutions for residential, commercial and industrial clients. Our products include industrial, steel security, timber, palisade fencing,  installation and supply of mesh, and all types of garden gates and fencing products. We currently service clients across the Liverpool, St Helens, Widnes and the North West of England, Merseyside and beyond. We also undertake repairs of worn or vandalised portions of your existing fences to ensure that your property remains secure and protected.
We understand the reasons behind opting for strong and sturdy industrial fencing. In Woolton, industrial fencing provides a professional look to your property and ensures clients that their privacy and security are being well taken care of. This helps you to monitor the entrance and exit to your property, demarcate the boundaries, give you better control over the premises and ensure privacy. This is one of the top priorities when you set up your business in a specially designated property. Though industrial fences are not meant to be decorative or aesthetic, what they can do is give a neat and clean appearance while shielding important or ugly structures from public view. The most common material that is used is steel, in the form of pickets or stakes that are welded together.
The design of industrial fencing in Woolton is a crucial aspect of security. This fence can also be designed in the form of hinged gates. Our team can help you to plan the design according to your unique requirements. You may also have a budget allocated to this project and we can work within the parameters of this. Customer service is one of the cornerstones of our business and we can provide tailor-made bespoke solutions based on your specs. A practical, efficient and functional design at an affordable cost is what you will get from our talented team. Contact A Line Fencing for more about our industrial fencing. We have the experience, knowledge and expertise to provide you with the right solution.