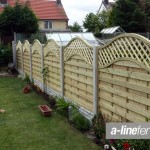 If you're looking for top quality industrial fencing in Prescot to ensure your business premises is safe, speak to our team.
While the primary purpose of industrial fencing is to protect your commercial property from intruders, it can also provide your property with a smart new look. A property enclosed with a sturdy yet good looking perimeter fence makes an excellent first impression. We're pleased to offer a range of different fencing types to meet your specific requirements. We offer timber fencing, along with palisade, chain link, concrete and post and rail fencing.
For your property in Prescot, our industrial fencing is durable and strong. Unless the fencing is purely for decorative purposes, your industrial fencing should be made to last. Moreover, we can provide the right industrial fencing for your property. Have a look at our palisade fencing. It is made from galvanised steel, which is tough and resilient. As such, palisade fencing is a great choice. An extremely strong fencing, it is unlikely to get damaged easily.  It is made with 2 horizontally running rails and these are connected by vertically running rails. Palisade fencing is extremely difficult to climb over and it typically has spikes along the top of the fence.
For top quality industrial fencing in Prescot, speak to an expert supplier. Contact A Line Fencing today for more details about our range of top quality industrial fencing, Alternatively, concrete fencing is also a very good choice for your business property. It is strong, durable and can be painted with your business logo or brand to add visual appeal. On top of that, it is an inexpensive option. A concrete fence can also be easily repaired should it get damaged. A concrete fence will never rot, and neither will it succumb to insect infestation. They are also ideal in all types of weather conditions. Along with our excellent range of industrial fencing, we provide an efficient and professional installation service. Keep your business property safe from intruders with our top quality industrial fencing.