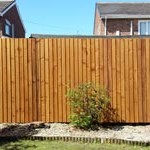 A top fencing company in Wavertree can assist you with the right type of fencing for your specific requirements. If you're looking to purchase top quality fencing, it is essential to use the services of a trusted supplier. Let us assist. We have years of experience and an excellent reputation. In addition, our prices are highly competitive. We understand how important your fence is for your property's security. As such, we can provide assistance with different types of fencing that will be perfect for your specific requirements. We offer a top quality range of different types of fencing, from timber fencing panels to security fencing.
Let our experts assist you with advice and suggestions about the best type of fencing for your specific needs. Thus, in Wavertree, a fencing company has the experience, the skill and the knowledge on the right type of fencing for the perfect perimeter fence for your property. In addition, we offer different types of fencing. While we specialise in timber fencing, we do also offer palisade, concrete, post and rail and steel fencing. Timber is an excellent choice for your fence. It is durable and strong and provides a neat tidy look to any property. However, for your industrial property, you may prefer palisade fencing. This is also strong and durable and also provides a smart, neat look. Speak to us about your needs and we can provide clear advice on the best type of fencing that is best for your property.
Our fencing company in Wavertree offers the best fencing at the best prices. Moreover, our service is highly recommended. You are welcome to contact A Line Fencing today for more details on how our fencing company can assist you with your requirements. Should you require installation of your new fencing, our experts are available to assist. Our many years of experience in the trade have ensured many satisfied customers. Many of whom are repeat customers. In addition to our excellent quality fencing, we can assist you with timber gates as well as fencing repairs.