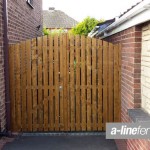 Choose attractive, functional timber gates in Tarbock Green from our extensive collection. We have an unbeatable range of fencing and fencing products, paving, decking, timber and timber gates. They are available in the domestic and commercial sectors. We specialise in premium quality products at competitive rates. Our clients value our friendly, professional advice and assistance, no matter how big or small the project. Our timber gates are exclusively hand crafted and can be styled to align with your specific requirements. You can rely on us to design, manufacture, supply and install garden gates, driveway gates and more.
Wood never goes out of fashion, and whether yours is a contemporary structure or a heritage one, in Tarbock Green, timber gates will make the right statement. Choosing the right material for your gates is a very important decision. You need to balance aesthetics, functionality, price and quality so that you get the best. Timber is highly versatile. It can be fashioned into any shape, thickness and size, and finished exactly how you want it. You may prefer paint, varnish, stain or the all-natural look. These gates can be designed to provide access, demarcate a certain area or as a decorative element. Surprisingly, wooden gates can also be a sturdy barrier against intruders, both human and animal. Hardwood gates with an efficient locking system can protect your home or your business quite well.
Timber gates in Tarbock Green age beautifully. With the right care and protective coating, can look lovelier as they get older. They are also environmentally friendly compared to synthetic materials, and are 100% recyclable. Wooden gates can be repurposed creatively and reused over and over again. Wood withstands the elements very well and is a strong and durable option for your gates. It has a natural appearance that blends well with your garden. Contact A-Line Fencing today for more about our timber gates. You can add the fixtures and fittings of your choice to make it as decorative and functional as you wish.