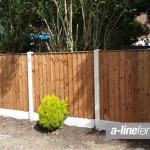 Fencing in Huyton from A Line Fencing is affordable and secures your property. We have a number of different garden fence styles. They are mostly created from timber, are hard wearing, as well as looking extremely attractive. Wood panel fences provide privacy for the home owner and allow you to relax and enjoy your time outdoors. We offer varying heights of panels as many people only require the back garden to be enclosed with a high fence. The front of the house is normally only surrounded with a low wood panel fence which offers a view into the front garden. We can also install mesh fencing or post and rail fences. We use wooden and concrete uprights to attach some of the fencing.
When you need to enclose your property in Huyton, fencing can enhance your home. Businesses prefer a more robust form of fencing and we supply and install palisade and security fencing for added security. This can be topped by barbed or razor wire or even a few strands of electric wiring. We have securely fenced a number of schools. This keeps the children safely inside the premises while excluding anyone who does not belong there. We have a large range of concrete fencing which is suitable for both domestic and commercial properties. Our reputation as one of the top fencing companies in our area is well deserved.
Fencing in Huyton is available in many shapes and sizes. To find out more about high quality fencing, contact A Line Fencing today and we will visit you to offer you a free no obligation quotation. We are fencing specialists and take great pride in the fact that we can offer a wide range of different fences. Our prices are very reasonable and our hard working and experienced staff will make sure that your fence is erected properly. We can offer a complete garden renovation service with paving and decking as well as laying a new lawn. We are well known for our professional approach to every project we undertake.