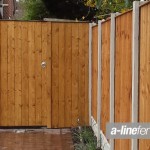 For quality timber fencing in Wavertree, A Line Fencing is a company that prides itself in the design, manufacture, supply and fitting of the best timber fencing in Liverpool. Since our inception in 1998, we have provided quality timber fencing to all our customers, as well as a top quality fitting service. This has made us one of the leading fencing providers in the region. We offer both timber and concrete fencing. While timber fencing is most used for residential properties, we can also provide a range of industrial fencing such as palisade fencing, school fencing, security fencing and post and rail fencing. Our industrial fencing is ideal for all businesses, schools and nurseries.
For homeowners in Wavertree, timber fencing can be used to demarcate your property. It is also used to keep unwanted visitors out of your property. Why not consider top quality timber fencing from A Line Fencing for your property? As specialists in garden fencing, our professional fence fitters can offer useful advice on different types of fencing as well as different types of timber used for the fencing.They can also suggest the most suitable styles that would be suited to your particular fencing requirements. We are happy to supply and fit new stylish and robust timber fencing panels to replace your old wooden fencing.  Businesses will also benefit from our fencing. Choose from post and rail fencing, mesh installations or high-security palisade fencing. Speak to our fencing contractors and schedule a site visit so that we can come and assess your property and determine the best type of fencing for your needs.
Timber fencing in Wavertree also includes a repair service. Our team is expert when it comes to repairing timber fencing.  If your current fencing is damaged or vandalised, speak to us. It may be that only a few fencing panels need to be replaced. We can assist. If you are interested in new, quality timber fencing for your property, contact A Line Fencing today.For quality fencing at excellent prices, A Line Fencing is the company to speak to.