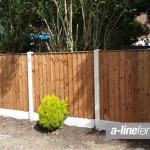 With garden fencing in Huyton from A Line Fencing you will get a little privacy in your own home. Our company has been in business since 1998 during which we have grown and expanded into commercial fencing. Garden fencing is how we started and the timbers we use are responsibly sourced. There are many fencing contractors that will build a fence for you and some of them will do the job for a low price. You get what you pay for is a fundamental of finance that applies to fencing as well as everything else. Our prices are competitive but the professional quality of our fencing products and installation is superior to most. No matter how good a fence looks, it won't stay that way if the installation is shoddy.
A Line Fencing is well respected in our industry with a high level of customer satisfaction. In Huyton, garden fencing provides more than privacy and security. You will be looking at it so the one you choose needs to appeal to you aesthetically. We have several designs from which to choose and we will answer questions you may have about the pros and cons of each style. Good quality fencing will last long if it's properly maintained. We can give you instructions about how best to maintain the fence you have chosen. Count on us to dig the post holes deep, bracket the panels securely, and clean up the debris when we are finished. Before we even begin we prep the fence line so your fence is level, check for underground utilities and secure any needed permits.
Garden fencing in Huyton is a major investment in your home that will recoup its cost by adding to the value of your property. Meanwhile you have a beautiful natural looking privacy fence so you can enjoy your own garden without nosy neighbours. The value of a garden fence is also in the security it offers. Fences serve as a barrier that minimises crimes of opportunity. The kids and pets are safe from traffic within the fence walls. To enjoy all the benefits of garden fencing contact A Line Fencing for a free quote. We'll help you choose the best long lasting garden fencing for your family and your budget.