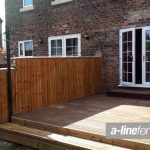 When you need fencing in Woolton we can help you. A Line Fencing has been operating in the region for many years and we have built a strong reputation. Our speciality is garden and timber fencing, but we do offer a full range of products. If you need industrial fencing, steel security fencing or palisade, we have it all. We provide a comprehensive service. This includes giving advice so that you can choose the right product. We will install your fence to the best of industry standards. We even repair broken fencing when you would prefer not to do a new installation. Other services that we offer include decking, paving and turfing. Whether you need a fence installed or would like your whole back yard redone, come directly to A Line Fencing. Our prices are competitive and our service is excellent.
If you need to fence your home or your business premises in Woolton, fencing from A Line Fencing is your answer. There are many different types of fencing you can install, depending on your requirements. We can advise you on the best product for your installation. Whatever product you choose you can be assured that it will be of an excellent standard. If you would like timber fencing, we have a number of styles and types of wood from which to choose. Our team will help you decide what is best for your property. If your requirement is for industrial type fencing, we have assisted many different businesses to install the ideal fence. Our customer base includes schools, nurseries, estates, property developments and more. In each instance, we have installed the fence best suited to the client's requirements, and to their budget.
When A Line Fencing installs your fencing in Woolton, you will be delighted with the result. The old adage goes "good fences make good neighbours". Your neighbour will love our fencing with its sturdy construction and its good looks. Contact A Line Fencing today and speak to a friendly team member. Once you have chosen the fencing that you would like, we can do the rest.