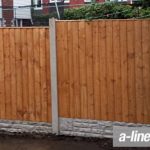 There are many reasons why fencing in Aigburth should be purchased from a reputable supplier. If you want to fence the perimeter of your property with sturdy quality fencing, it makes sense to use the services of a company with experience in the provision and installation of quality fencing. Perhaps your current fence is damaged and no longer provides a security barrier. Or perhaps you would like to increase the value of your property by having a new fence installed. Regardless of the reason why you would like a new fence on your property, it is wise to speak to a professional company for the best results.
For your property in Aigburth, fencing options are available from A Line Fencing. We specialise in all types of perimeter fencing, including timber garden fencing, industrial fencing, security fencing and post and rail fencing. Speak to us about what you have in mind for the fencing of your property, and we can discuss the most suitable option for your needs. As specialists in all types of fencing, we have the knowledge and the experience to supply and install the fencing you need, and at an affordable price. Our team of professional fence fitters can provide you with the advice you need as well as suggestions on the different types of timber used for our timber fencing. We can also answer any questions you may have on the different styles of fencing and functionality required for your property's fencing.
Fencing in Aigburth, when purchased from and installed by professionals, can change the look of your property. Properly installed fencing will also increase the security of your property, and at the same time, increase the value of your property. This is especially welcome if you are planning on selling your property in the future. Contact A Line Fencing today for more information about our quality fencing options. Other than suppling and installing good quality fencing, we also provide a repair service. If your current fencing is damaged, but doesn't warrant a complete replacement, speak to us about our fence repair service.