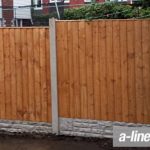 Living in close quarters with neighbours has benefits and drawbacks best accommodated by timber fencing in Tarbock Green. It doesn't matter if it's your private residence or place of business, beautiful timber fencing plays an important aesthetic and functional role in daily life. Garden fencing panels from several choices of timber is popular for gardens and anywhere you want to create a privacy barrier. If you prefer to not see an unsightly view from your backyard or place of business, we at A Line fencing can create the start of a new view for you. We professionally install strong, durable fencing panels that will withstand the elements and hold their straight line for many years to come. Plant greenery along your fence, hang some party lights and you're ready for festive fair weather outdoor gatherings.
You may want fencing for just one or two sides of your property or a complete surround for total security and privacy. For customers in Tarbock Green, fencing that works best for you is the goal of A Line Fencing. Timber Palisade fencing, left natural or painted, is beautiful for a garden perimeter, horse pasture or to define property lines. Spacing of boards will allow for any degree of privacy you prefer. For private homes, Palisade fencing leave an open feel to the garden but still provides a boundary security line for kids and pets. At differing heights, these fences are effective for public buildings, schools and even industrial complexes. You can put up a "no trespassing" sign but it sends a stronger message when displayed on your fence.
A Line's timber fencing in Tarbock Green has a solution for your fencing needs whether domestic, commercial or industrial. We are here to help you decide what works best for you. We don't cut corners by using cheap hardware and materials to manufacture our fencing products. Deep post holes, straight lines and galvanised materials are the components of fencing longevity. We guarantee our work and your satisfaction. Contact A Line Fencing for a free quote and free advice for fencing choices. Your fence isn't complete until the gate is installed. We construct custom gates in all sizes with a wide selection of hardware from which to choose. A Line Fencing is on call for fencing repairs including emergency repairs, partial rebuild or replacement of damaged sections.