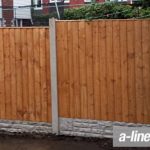 Demarcate your property clearly with top-quality boundary fencing in Garston. At A Line fencing, we have more than two decades' experience in many areas of building work, including installation of high quality fencing products. We began our operations by offering garden fencing in and around Liverpool and have expanded and diversified to include a comprehensive range of products and services. We now provide block paving, timber decking, industrial, commercial and domestic fencing, garden gates, steel and wrought iron gates and fences. Through the years that we have been in business, we have established a good relationship with the leading suppliers and manufacturers of fencing, decking and paving products. This helps us give our clients the best of products based on their needs, preferences and budget.
For property owners in Garston, boundary fencing helps to mark off and establish territory that is legally owned by you. It is also a deterrent for intruders and criminals, protects your privacy, property and valuables and helps to control entry into your premises. We advise our clients to thoroughly analyse their need for a boundary fence and give us their requirements in terms of dimensions, materials, security features, etc so that we can provide exactly what they have in mind. Boundary fences also serve to keep wildlife and other unwanted creatures out of your property. If you have pets or children, a secure boundary fence gives you peace of mind, because they will stay within its limits. Today, many older people and senior citizens suffer from problems like Alzheimer's syndrome or dementia. They may wander out of the building and get lost. A good boundary fence helps to keep them inside your property so that no harm comes to them.
We can also help you to repair, refurbish or renovate boundary fencing in Garston. With age, exposure to the elements and natural wear and tear, fences, panels, and supports can get damaged, vandalised or broken. We can replace these portions and restore complete security. Contact us for more information about boundary fencing.  We have a close-knit team of contractors in Liverpool who provide top-quality professional advice and services to clients in the area and beyond.