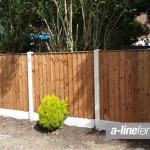 If you are looking for quality garden fencing in Skelmersdale, get in touch with A Line Fencing for products that are of high quality and look beautiful. We understand the importance of preserving your privacy and protecting your property. If you don't take the necessary measures, it's not rare to find people mindlessly going over your lawn, using it as a shortcut. Furthermore, your property is also more vulnerable to theft and burglaries without fencing, which can act as a deterrent to petty criminals and thieves. If you are looking for strong, sturdy fencing products, don't hesitate to pay us a visit at A Line Fencing.
We have a variety of fencing panels, in different types of wood. In Skelmersdale, garden fencing should be strong and durable enough to last many years. Furthermore, if you don't have time or the health to maintain your fencing, just let us know and we will find you something that requires little to no maintenance. Choosing the right fencing can also significantly increase the aesthetics of the house and its curb appeal. So, choose wisely and if you require professional advice, don't hesitate to enquire from our staff members. We have been in the industry since 1998 and have grown to be quite reknown in the area that we operate. On top of that, we are not just limited to fencing, we also provide repair work and maintenance. Our trained contractors can repair and remove old fencing and install new ones, if required. Or, if you require wrought iron gates and railings, just get in touch. We offer a wide variety of services that include industrial fencing, timber decking, block paving and many others.
For professionally-installed garden fencing in Skelmersdale, get in touch with the experts at A Line Fencing. We are open every day, including Sundays. If you would like any further information, please don't hesitate to contact us today. Should you require matching gates for your new fencing, we do have a few interesting options that you can choose from.  Keep your property safe, and neat with top class garden fencing from A Line Fencing.