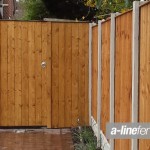 A Line Fencing makes V board fencing in Rainhill available. Our timber fences are strong and durable. They're great for any purpose, especially garden fencing. V board is simply fence boards slotted to easily attach the horizontal rail which provides unwavering support for your fence in all climates. Concrete posts add to the sturdiness and durability. Even the strongest timber fence panels will sag if the installation is shoddy. We offer professional installation with guaranteed workmanship. If you prefer to do your own installation, v board fencing and concrete posts will provide your best support.  Timber fences are naturally beautiful and we have many styles and heights from which to choose.
The level of privacy you want will dictate the fence you choose. In Rainhill, v board fencing that is closed  board or double sided fence panels will provide the greatest privacy because there are no gaps between the boards. The height of your fence will dictate not only privacy but security as well. Chose a shorter style if you want to interact with your neighbours without giving them open access to your property. For more privacy and greater security, go higher. No matter the height, our double-sided fencing is a nice choice if you have neighbours. This fencing looks beautiful from both sides. Encourage your neighbour to share the fence costs with you. It will enhance the appearance, improve property values and provide a measure of safety and privacy for both of you.
V board fencing in Rainhill used in privacy fencing also protects the safety and security of your home, family and belongings. When you add one of our sturdy gates with attractive but secure locks, you have a barrier against intruders. Your children and pets are prevented from running into the streets or into neighbouring gardens that may have safety hazards. You can't stop neighbours from leaving cellar doors open or rusty equipment lying about. But you can protect your pets and children from those hazards with a security fence and a strong gate and lock. Contact A Line Fencing for a free estimate on new V board fencing. We can give you a quote for self-installation and another with our professional installation.