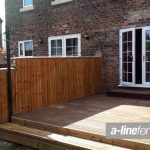 Choose the best garden fencing in Whiston for your property. There are a number of reasons why you would want quality garden fencing. It plays a role in the security of your property by keeping intruders out. Garden fencing also adds to your property's value. We offer a range of top quality garden fencing that is perfect for your requirements. Our fencing is primarily constructed of timber, but we do also offer a range of other types of fencing too. We are happy to state that all our garden fencing is strong, durable, good looking and excellent value for money.
For your property in Whiston, garden fencing can be coupled with a sturdy garden gate. Timber fencing is our speciality, and we have an extensive range of wooden garden fencing for you to choose from. Not sure about the benefits of timber garden fencing? Speak to our experts. We can answer any of your questions, provide suggestions and offer free advice on anything to do with timber garden fencing. We'll discuss the different styles and functionality.  Quality timber garden fencing has a great number of advantages. It looks good. Your garden fence is likely the first thing visitors see when they approach your property. It is durable. Timber fencing lasts for many years. When it is properly treated, as all out fencing panels are, you can expect many years of service from your garden fencing.
Still wondering about garden fencing in Whiston? Timber garden fencing stands the test of time. If you are looking for the perfect garden fencing for your property, contact A Line Fencing today. We can also install your new garden fencing. Our installation team are professionals and take great pride in the work they do. We also offer other types of fencing, as well as expertly manufactured garden gates, designed to fit any opening. We have proudly provided our expert services and products to all our clients for many years. Why not change the look and value of your property with top quality garden fencing from our expert team?