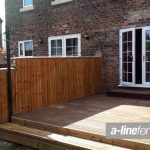 Classic wooden fencing in Whiston is an excellent way to secure your property. Whether your home has a traditional rustic or contemporary design, wooden fences are ideal in the North West. Wooden fences give your property a solid frame. Wood adds to the natural appeal of your home. It also creates a bridge between the natural and built environment on your property. Wooden panel fences provide both security and privacy. The panels conceal your property from passers-by and potential burglars. If you live on a busy street, the wooden fencing can protect your children and pets from fatal road accidents. For longevity, ensure you use treated timber that is safe from termite infestation and rot.
We provide high-quality wooden fencing solutions for several applications. In Whiston, our wooden fencing is ideal for domestic and commercial properties. We provide perimeter fencing solutions that keep vandals, burglars and stray animals off your property. You can enjoy your private nook in a crowded neighbourhood if you seclude your property with our wooden panel fences. We use treated timber to build our fence panels. We also provide several types of wood treatment when refurbishing damaged fences. We can also repair and replace fence panels damaged by accidents, fire, pests or extreme weather. Our experts build our wooden fencing panels to withstand extreme weather conditions and resist pests.
Apart from providing wooden fences in Whiston, we also build and install timber gates. Our company is also famous for providing high quality turfing, paving and decking. We can transform your yard with our stylish yet conservative solutions. Our fitters are trained to install all types of paving including, block, patio and asphalt. If you would like to install wooden fencing around your home, contact  A Line Fencing today. Our design and installation team will consult with you to find out what type of fence you desire. We can modify your existing fencing or install a new one. We work with your budget to make your vision a reality. We can also provide concrete fencing where necessary.