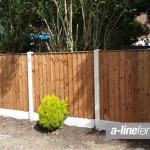 Top quality fencing panels in Huyton are what make a sturdy, durable fence. Erecting a fence around your property can serve as a good measure of security. It can keep unwanted intruders out of your property. Additionally, it can keep children and pets safe from running out onto the road. An attractive fence also adds aesthetic value to your property. There are many different types of fencing options that you could choose. Among the sturdiest and attractive looking is a wooden fence. Timber is known for its timeless look as well as its strength and durability. A wooden fence is well worth considering for a new fence for your property.
A timber fence can be made to measure. In Huyton, fencing panels that we offer are made from timber sourced from carefully managed woodlands. We offer a range of different styles of timber fencing panels, all precisely and expertly designed and manufactured. As a company that specialises in top quality timber fencing panels, we are the one you can trust for excellent quality and at cost-effective prices. Speak to us about your specific requirements. Our experts are on hand to provide advice on the best suited fencing panels for your property. We can also provide advice on the type of timber as well as the design that would complement your property. Should your fencing panels need to be adjusted for size, we can help.
You'll find premium quality fencing panels in Huyton when you pay us a visit. On top of that, our experts are available to install your ne fencing. When your current fencing is looking shabby and worn, our new fencing panels will bring new life to your property. Moreover, it will increase your property's security. For more details about our available fencing panels, contact A Line Fencing today. You may be interested in adding a new gate to include to your fencing. We also design and manufacture attractive wooden garden gates that will add the final touch to your garden fencing. Moreover, we are open every day of the eek for your convenience.