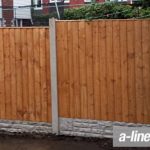 Top quality fencing panels in Aigburth ensure a strong, durable perimeter fence. You are more than welcome to choose from our large variety of different fencing panel designs. Our expert team uses top quality timber to manufacture our fencing panels. Wood is a super choice for any type of fence. Its benefits include strength, durability and good looks. For a fabulous new fence for your property that looks great, choose our top quality fencing panels. Fencing panels add privacy to your garden as well as deterring unwanted intruders. Our fencing panels are available in a number of different heights to provide the style of perimeter fencing you would like.
Our prices are cost-effective. In Aigburth, fencing panels that we offer are designed to last. Moreover, our prices are competitive so you can be sure you are getting real value for money. As a highly regarded specialist in top quality fencing panels, we are the supplier to choose for a safe and strong perimeter fence.  While we specialise in timber fencing panels, we also offer palisade, mesh and steel security fencing. Additionally, we have a beautiful range of sturdy garden gates. These would add the finishing touch to your garden fencing project. Our gates are suitable as garden gates, driveway gates and can be cut to the size you need for an opening in your fencing. Our team can also install your garden fencing.
Fencing panels in Aigburth are made to last. Moreover, our team will both supply and fit new fencing panels for your property's fencing. We offer our professional services, 7 days a week. When you are searching for the best fencing panels for your new garden fencing, contact A Line Fencing. In addition, our expert team can also assist you with any repairs needed for your fencing. We will remove the damaged fencing panels and replace them with new, efficiently and professionally. No job is too small or too large for our expert team. Let us know what your requirements are, and we can provide a free quote for your new fencing panels.