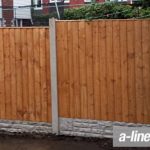 Excellent quality garden fencing in Wavertree is available when you speak to our expert team. There are numerous benefits to installing a robust and strong garden fence. A sturdy garden fence adds security, privacy and a touch of elegance to your property.  We're happy to offer a range of top-quality garden fencing that will meet your exact requirements. You can choose from a variety of different types of fencing. These include mesh fencing, palisade fencing along with timber fencing panels. While we do offer different types of fencing for your garden, we primarily work with timber fencing. Timber is an excellent choice when it comes to a sturdy, long lasting and a great looking fence.
Speak to us about your fencing requirements. In Wavertree, garden fencing is one of the products we take great pride in. All our garden fencing is manufactured from excellent quality timber. Additionally, all of it is ethically sourced in the UK. On offer is a range of different types of timber garden fencing panels. Our garden fencing is competitively priced and we believe you will receive an excellent deal. As specialists in garden fencing, we'll also offer advice on the different available timbers as well as wooden fencing styles and the different functionality required from your garden fencing. In addition to supplying great quality garden fencing, we can also install it for you.
Garden fencing in Wavertree is a sound method in hich to secure your property. Pay us a visit and see our range of different types of garden fencing. For more details on how our expert team can assist you with new garden fencing, contact A Line Fencing today. With our garden fencing, you'll add style, security and a pleasing effect to your property. You'll also be pleased to find that we offer a professional repair service. Should your garden fencing get damaged, we can replace the damaged panels with new panels. When it is time to replace your existing garden fencing, we are the fencing company you can rely on.