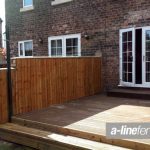 If you're tired of the view why not install fencing panels in Haydock? At A Line Fencing we have a big selection of timber fencing panels that will look better than whoever is looking back at you. We don't always get to choose our neighbours and that's true for homes and businesses. If you want to control what you or your customers see while on your own property, fencing panels are the best choice. Maybe you've asked neighbours to keep their kids and dogs out of your yard and dispose of the junk car parked in their drive to no avail. If the restaurant behind your law office lets trash build up and employees loiter outside their back door your own clients might be put off. If no laws are being broken all you can do is build a fence.
Your reasons for building a fence may not be pleasant but once your fence panels are installed we think you'll be glad. In Haydock, fencing panels block out unsightly surroundings but they also give you, your family or business privacy. Within the timber fencing panels you can create a world of your own. Line your fence panels with beautiful flowering plants and add evergreens to break up the winter blahs. If it's your business you're fencing perhaps your parking lot could be included and fenced. On the other hand, maybe you are the one with something to shelter from view. Our timber fencing panels are durable, thick and tightly fitted panels that can stand up to the elements for decades.
Natural wood has a beauty of its own and our fencing panels in Haydock reflect that natural look. We build to your desired height and stain colour. Our timber fences are pre-treated to resist rot, and insect infestations which will prolong the life and beauty of your fence panels. We have a team that will professionally install for you and you'll want to add one of our sturdy gates. Contact A Line Fencing for timber fence panels and gates. We promise value for money and a fence you will be proud of. Control your own immediate environment and surround your property with privacy, security and beauty.