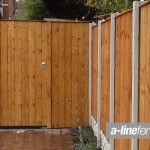 Don't forget garden gates in Whiston, no matter the type of fence you install. We install beautiful garden fencing at A Line Fencing using top quality and sturdy materials. Our craftsmen are well trained and dedicated to a job well done. The result is a boundary defining the perimeter of your property. The fence affords you as much or as little privacy as you choose and don't overlook its value as an intruder deterrent. But every garden fence needs a sturdy and secure garden gate. We build attractive, strong, and durable garden gates to any height and in many designs. A tall solid gate protects what's valuable to you inside your garden like children, pets and your own privacy. It keeps out whomever and whatever you want kept out with its sturdiness but also with the strong hardware and locks we offer.
There are multiple options to consider when choosing to have a timber garden gate built for your property. For homes in Whiston, garden gates may be attached to timber posts of your fencing, concrete posts or fixed to your home. Decide which you prefer, a gate that swings in or out. Do you want the gate low enough to see over? It's common for the gate to be sized by height to the height of the fence. However, a high privacy fence could still have a lower gate so you can see who is approaching. Wood panel fencing and gates are popular but spaced timbers for both fence and gates are attractive. All of our timber gates are treated to prevent wood rot and fungus. They can weather into a natural beautiful look.
You don't need garden fences to have garden gates in Whiston. Our double gated driveway gates lend kerb appeal to your home and protect your car from road debris kicked up by passing cars, construction vehicles and street sweepers. If your kids like to play with ride on toys on your driveway, the double driveway gates will protect them from street dangers. Contact A Line Fencing and tell us where you would like a garden gate. An unprotected side door to your home between your house and garage or into your any part of your property adds an attractive security measure.