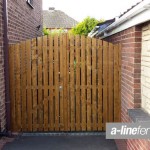 Choose wooden gates in Lydiate for the perfect finishing touch to the new fencing around your property. Installing new fencing is an investment – not only does it increase the value of your property, it also keeps your property secure. To complete the new addition to your property, and add to the value, wooden gates are an excellent choice. We offer a range of carefully manufactured wooden gates to meet your requirements.
Our quality wooden gates are hand crafted and styled for any specific requirements you may have. In Lydiate, wooden gates are sturdy, durable, and aesthetically pleasing. We are happy to manufacture wooden gates for any sized opening, be it a driveway gate or a garden gate. On offer is a range of different styles and sizes. You are welcome to browse our brochure and choose the gate that is best suited to your property. If you have a particular design in mind, or a different sized opening, please speak to us and we can assist in creating the perfect wooden gate for your needs. Our gates can be fitted to fencing, timber posts, or concrete posts. Or, if you prefer, we will attach wall fixings so that your garden gates can swing from the wall of your building. We are pleased to say we have all the skills needed, as well quality timber to build and install all sizes and types of timber styled gates.
Make a statement with wooden gates in Lydiate. With our expert workmanship and attention to detail, you will have the wooden gates on your property that shouts style and class. For more information about how we can assist you with wooden gates for your property, contact A Line Fencing. Since 1988, we have provided first class fencing and gates to our clients. Our expert team has the dedication and the skill to manufacture the wooden gate exactly according to your particular requirements. For your convenience, we are open every day of the week. Should you need advice, or would like to see our range of wooden gates we have on offer, please feel free to pay us a visit.