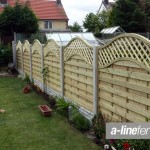 If you're looking for cheap garden fencing in Ormskirk, you don't have to compromise on quality. At A Line Fencing, we are the one of the leading fencing and paving specialists in the area. We provide top-quality products at affordable rates, tailored to meet your needs, preferences and budget. We service the domestic and commercial markets and most of our business comes via recommendations from satisfied customers. We offer a comprehensive range of fencing products, ranging from garden, palisade, school, security, post and rail, concrete, mesh fencing and timber gates. We specialise in garden and timber fencing, though we provide excellent services and products in all other categories. Our client base extends through the Liverpool, St Helens, Widnes, Merseyside and the NorthWest. Apart from new installations, we offer repair, refurbishment and replacement services in case your existing fences have been damaged, worn or vandalised. We also offer sectional repairs.
Fro property owners in Ormskirk, cheap garden fencing is an option when you need a boundary marker, privacy or perimeter fence. These types of fences need not be high-security or very sophisticated products. You need to look at the best value solution, but it's good to have some cash left over at the end. Expert landscape architects and gardeners recommend a variety of fencing solutions to mark the line between adjoining properties, separating certain areas within the same property etc, a low cost solution is preferable. Natural materials like timber blend well with plants and greenery, creating an environmentally friendly ambiance. Reclaimed wood is a great option along these lines and you can get a solid wood paneled fencing at affordable rates by using upcycled/recycled products.
Another good option for cheap garden fencing in Ormskirk is PVC panels with a coat of paint or moisture-resistant coating in a variety of colours, textures and finishes. Why not contact A Line Fencing for more information about our cheap garden fencing? Our experts also suggest that you use short panels in different patterns and arrangements to create an interesting design. Low-level fencing works well for small gardens. Trellis patterns look beautiful and can be used to grow creepers giving a more natural look. If you love the country-side feeling, get spaced wooden gate-post type fencing.