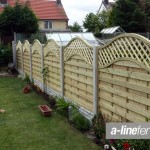 Fencing companies in Newton le Willows are a sure way to help you protect and beautify your compound in one go. From garden fencing to school fencing, you'll get your entire ideal fencing needs at A Line Fencing. Though garden fencing and timber fencing is our specialty, we also offer a variety of other fencing options, including steel security fencing, palisade fencing, mesh installations and supply, and timber gates for all types of surroundings. We also cater to school fencing and offer post and rail fencing as well as concrete fencing.
A Line Fencing not only provides you with the materials needed, but also gives necessary advice whenever required. In Newton le Willows, fencing companies such as ours will provide quality workmanship. Our professional team will offer free advice on the different functionality requirements needed for your garden fencing. With us, you'll be receiving service that goes beyond fencing. We also deal with paving, a great way to enhance the look of your property, no matter the size. We have a variety of paving options that include block, asphalt and patio. Whatever you choose, you can rest assure that our team of experts will lay them to perfection, as our team of fully trained fitters strive only for quality workmanship. We also deal with decking for gardens and patios, which can be fitted from decking kits or even pre-built decking designs which are in cohesion with the style and design of your garden. Need to upgrade the look of your lawn with turf? Look no further than A Line Fencing as we also supply turf. We deliver artificial grass and freshly lifted garden turf straight to your door. How's that for a one-stop-shop for all your lawn needs!
There are many fencing companies in Newton le Willows, but none quite like our company! Contact A Line Fencing today and find out how our fencing expertise can be of value to your home and garden for that perfect outdoor look. Our prices are competitive, and our workmanship is of the highest quality.