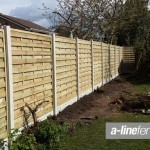 For beauty and protection, choose our top grade garden fencing in Tarbock Green. A high quality fence offers safety from intruders, both human and animal. Besides these functional aspects, your garden fence can also be a decorative element in your outside space. A well designed fence gives your garden a neat and organized look. It provides privacy when you want to spend time outdoors, having a meal with family and friends. It shields you from prying eyes when you want to spend some quiet time reading, or exercising. If you have children and pets, a sturdy fence provides security too.
For your property in Tarbock Green, garden fencing created by our talented design team can make your property a landmark in the neighbourhood. Our products are high on quality and affordable on pricing. We offer a range of fencing materials and products to align with your own unique requirements. We cater to both domestic and commercial clients. Good quality fences require little maintenance because they are built to withstand weather fluctuations. All our timber fencing panels are treated using the latest thermal technology. This helps to prevent warping, cracking and splitting of timber panels. Our panels are also pest and fungus resistant, so they will last for a very long time.
Garden fencing in Tarbock Green also helps to demarcate the boundaries of your property. A clear perimeter fence prevents disputes and unpleasantness about the extent of yours or your neighbour's property. Good quality fences help to prevent weed transfer across properties. Another great advantage of garden fences is that they can be used to mark off different areas of your garden. You may want to separate your vegetable garden from the rest of the yard, or you would like to fence off your pool area. A garden fence can also be used to shelter a certain spot in the garden from heavy winds. Contact A Line Fencing for more information. Our team will conduct a thorough initial survey to understand the nature and purpose of the fence you need. We also base our assessment on the prevailing weather conditions and the terrain. This helps us to suggest the right products.